PARTY BUSES 18-20 Passenger
CALL US 4 QUOTE:
 469-242-1853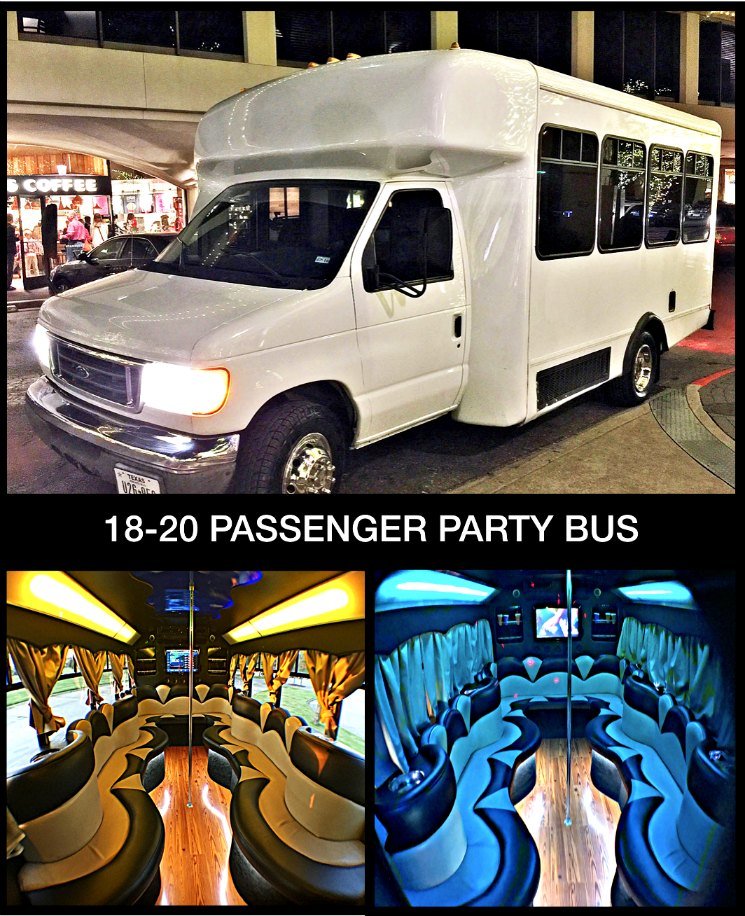 Our 18-20 Passenger Party Buses
Flat Screen TV & DVD Player

AMAZING Multi-Color LED & Laser Light Show

Ice Chests – BYO Beverages

Premium Sound System

All of our 18-20 passenger Party Buses are equipped the same
CALL US 4 QUOTE:

 469-242-1853
 18 Passenger White Party Bus VIDEO (20 Seconds)

PARTY BUS 30-32 Passengers


AMAZING Multi-Color LED & Laser Light Show

4 Flat Screen HD TV's & DVD Player

All Leather Wrap Around Seating

AWESOME Premium Sound System

2 Stability/Dancing Poles

10 Mobile Phone Charging Ports

4 Wet Bars & Ice Chests – BYOB!
PARTY BUS 30-32 Passengers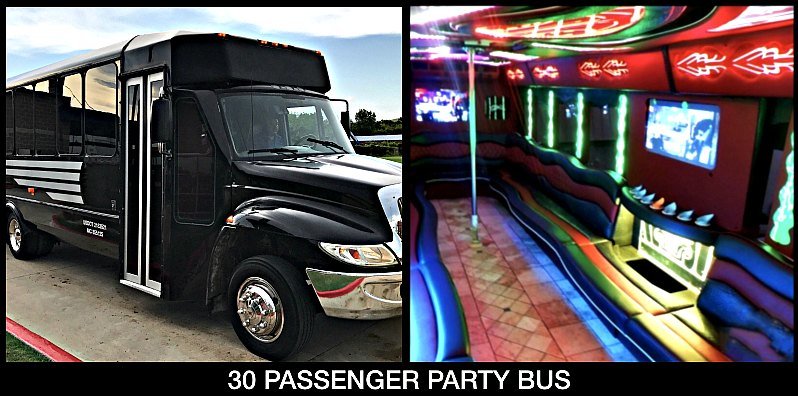 AMAZING Multi-Color LED & Laser Light Show

4 Flat Screen HD TV's & DVD Player

All Leather Wrap Around Seating

AWESOME Premium Sound System

1 Stability/Dancing Pole

4 Wet Bars & Ice Chests – BYOB

– Let the Professionals Drive 4 You
– Relax and Enjoy Your Special Occasion
– Celebrate & Have a Good Time!
– Arrive to Your Destination in Style!
CALL US 4 a QUICK QUOTE
469-242-1853

Latest LIMO PARTY BUS Innovations – DFW Take Notice!
Limo Party Buses are the ALL THE RAGE in the professionally chauffeured local transportation industry and this is for many very good reasons. We feature ALL the latest & greatest Party Bus technology, equipment, bells & whistles… Here are just a few main features:
We call our NEW Party Busses… "Mobile VIP Executive Lounges." As soon as you look inside one, you will know what I mean.

Wrap around seating. All of the comfortable leather seating faces inward, that means all of your group passengers are facing each other so everyone can engage, talk, team build, PARTY and enjoy the WORRY FREE, fun & relaxing ride to your destination.

EASY entering and exiting the vehicle. Unlike a Limousine, you do not have to crawl around on your hands an knees in your finest clothing, tight dresses & heels to get in and out…easy on, easy off.

You do not have to wait until you get to where you want to go before you get your party going and to start having a good time with your group. The Limo Party Bus is designed for MOBILE PARTIES! Experience it for yourself.

Here is an idea, how about a MOBILE HAPPY HOUR! Tell all your friends at the office about this exciting new trend in transportation. All our Party Buses are BYOBeverage!

Standing head room & multi-purpose stability pole (aka "stripper pole") in the center of the bus. The ever popular dancing pole is the centerpiece of all the action and fun… DO YOU LIKE TO DANCE?

MUSIC is central to a party and good times with friends. We have built in a state-of-the-art PREMIUM SOUND SYSTEM that will rock your world as we cruise down the road.

One feature that really stands out is the AMAZING LIGHT SHOW in the Party Bus passenger cabin. We combine the latest multi-color LED lighting effects with a multi-color LASER that lights the room on fire! See ABOVE for a 20 second short VIDEO of our 18-20 Passenger Party Bus showing off the awesome lighting effects and some people having a good time.

BIG Flat Screen TV's with DVD player for your viewing pleasure.

DON'T DRINK & DRIVE. It's not worth the gamble. When you plan your special events, go with a professionally chauffeured Limo Party Bus to insure your safety and avoid the life wrecking DWI. WORRY FREE is the safest & best way to have a good time!
We carefully craft the environments in our Party Buses for maximum comfort, entertainment & fun that allows our customers to have a good time, relax & enjoy the ride to their chosen destination. Sure, you could drive yourselves or take a taxi or Uber, but party buses cost $ comes out to be about the same for any large group and everyone's traveling (and having fun) together, no one has to worry about traffic or parking, everyone can enjoy an ice cold adult beverage (BYOB) or two without worrying about DUIs, and you get all of this with door-to-door group delivery service.
Once you go Party Bus, you will never go limo again! We cordially invite you to invite your friends & family come and test ride the luxurious environment of one of our impeccably outfitted Party Buses. Experience what it REALLY means to have a mobile VIP good time in the Dallas / Fort Worth DFW area.
– OUR SIMPLE SUCCESS EQUATION –
State-Of-The-Art Vehicles + Best Customer Service + Lowest Affordable Rates in Town = BEST VALUE.
CALL Limo Party DFW Today to Book Your Next Big Adventure! Make it EPIC!
469-242-1853